Black-blue-green vintage mohair V-neck cardigan Shag-a-Mo by The Red Hanger
Men's Size Small
Boy's Size Large (20)
m

Boy's Burgundy Scandinavian design retro acrylic-mohair cardigan with multi-color design at yoke & trim by
Robert Bruce
Boy's Size 20
Unisex White with navy design & trim wool-acrylic Norwegian style cardigan by Kandahar
Size 38 (US)
mr
Golden-Brown retro fuzzy brushed mohair cardigan sweater with burnt orange trim by Sky
Men's X-Small (38)
Boy's Medium
White classic V-neck tennis sweater with navy & burgundy striped trim at neck, waist and cuffs
X-Small (38)
t

Little Boy's Tan colored retro mohair cardigan with horizontal brown & gold stripes across chest & sleeves by Botany,
Boy's Small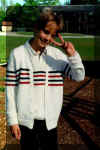 Preppy
Acrylic Twin-set
It's hard to believe this was once made for and worn by me, now it fits but only a boy.
Can be worn separately or as a set, comes in all adult and youth sizes.
Ivory fuzzy wool leather-button cardigan with two front pockets, by Polo Ralph Lauren
Small (38-42)
mr1

Boy's Tan colored brushed alpaca cardigan
Size 7

Matching set, Men's & Boy's royal blue acrylic crew neck pullover by Bugle Boy
Men's X-Large (50)
&
Boy's Small (32)
mr
Child's White classis retro cable-knit V-Neck tennis sweater by Bille-Knit
Child's Medium 8-12
(34")
t,b&g
Tan retro brushed mohair zipper-front cardigan sweater with chain-link top closure & leather elbow patches by Alps
Small (40)
mrm
Young men's red with black trim Ultra-soft crewneck angora sweater by Kenzo
X-Small/Small (36-38)
ma

Child's Natural white Icelandic wool crewneck with light & dark brown yoke design by Hilda Ltd.
Small (34)
Navy blue crewneck pullover sweater with colored horizontal striping by Chaps Ralph Lauren
Size 4

White acrylic cardigan with blue arm stripes & front pockets
Size 6
Aqua colored 50% mohair - 50% wool zipper-front vintage cardigan with 3 vertical colored stripes on front, by Sears
Small
rm2
Child's Pale yellow hand-knit wool-acrylic crew neck pullover with coffee colored neck and chest design